6 November 2023 /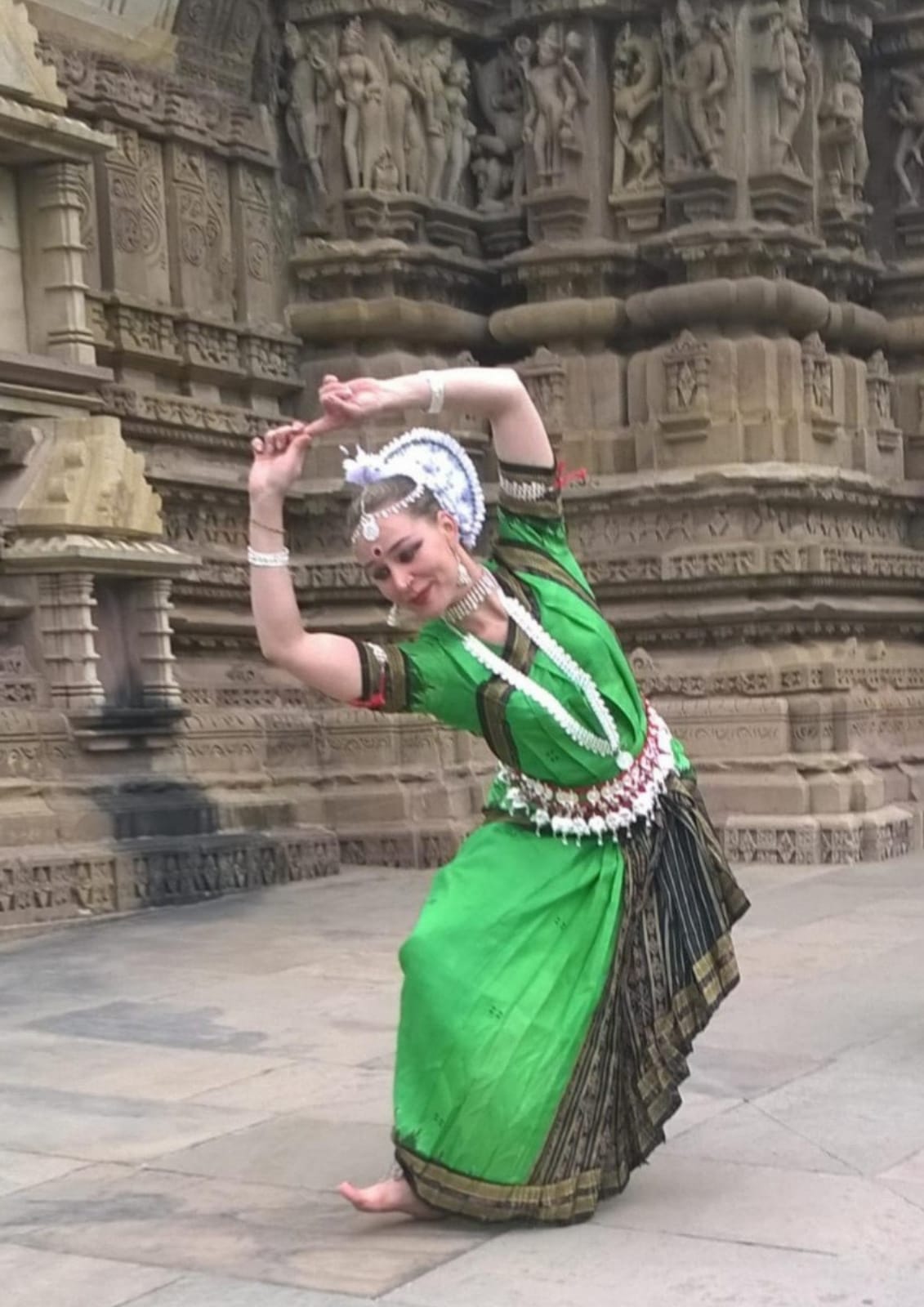 KATHAK AND ODISSI DANCE EXPONENT KRISTINA LUNA DOLININA
Renowned Kathak and Odissi dance exponent Kristina Luna Dolinina founded Natya Devi Dance Theatre, Lithuania and conducts various Indian Classical Arts events, festivals and inter-cultural projects.  
She organizes the International Festival of Classical Indian Arts, 'Sursadhana' and organises various cross-cultural dance projects participating contemporary dancers in Lithuania, Europe and India.
"While studying Philology in Vilnius University, I started learning Hindi Language in the Center of Oriental Studies. I came to India to do the course of Hindi Language in Kendriya Hindi Sansthan, Agra in 1997. Being fascinated by Indian culture, I continued my studies in India doing an M.A. degree from Jawaharlal Nehru University (JNU), New Delhi during 2003-2005," says the Internationally acclaimed dancer Kristina Luna Dolinina. "Along with that I started Classical Indian dance Kathak training under the guidance of Guru Padmashree Shovana Narayan and Guru Teerath Ajmani. I was given the chance to perform in many places along with my guruji and the Troup, Asavari," she added.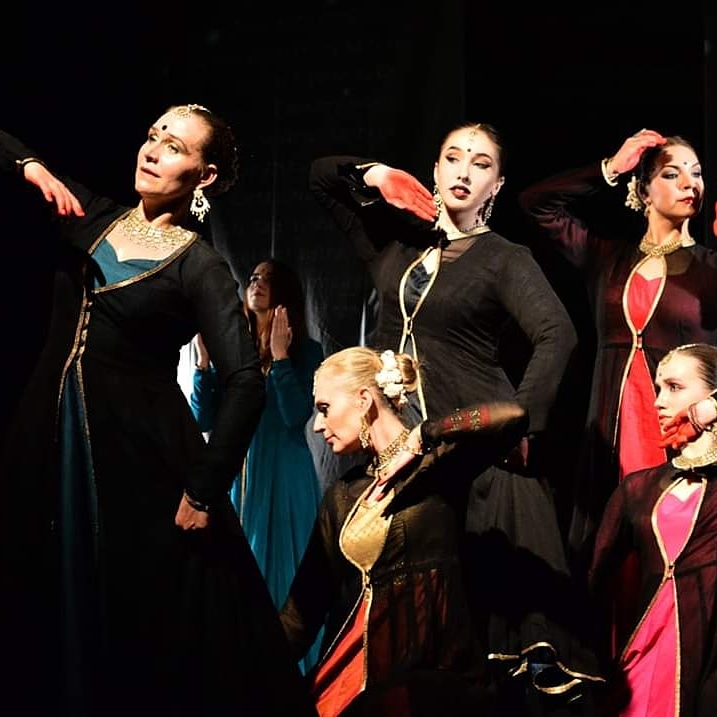 Artist Kristina Luna Dolinina started Odissi training with Guru Sharon Lowen after joining Shri Ram Bharatya Kala Kendra under the guidance of talented Odissi dance and Guru Priyambada Pattnaik. She completed the Certificate course of three years in 2005.
NATYA DEVI DANCE THEATRE, LITHUANIA
In 2009, Kristina Luna founded Natya Devi Dance Theatre in Lithuania which is involved in various Indian Classical Arts events, Festivals and Inter-Cultural projects. She conducts workshops and presents Kathak and Odissi recitals on a regular basis.
Now the dancer is practicing and performing Kathak and Odissi in Lithuania. She is organizing Annual International Festival of Classical Indian Arts "Sursadhana" and participating in lots of cross-cultural dance projects along with contemporary dancers in Lithuania, Europe and India.
She teaches Hindi Language and Literature, Indian Performative Culture in Vilnius University, Lithuania from 2010.
Renowned dancer Kristina Luna took part in the Annual Festival for upcoming artists – "Lalit Arpan 2007" in New Delhi.
In the crossroads of classical Indian art forms and modern sensibility Kristina is constantly searching for new unexplored ways in combining creativity, beauty of the dance vocabulary, virtuosity of movements and delicate sensitivity. Dedicating her life to dance Kristina Luna believes in universal values of art that can reach every human's heart.
KRISTINA LUNA DOLININA COMPLETED HER PHD IN ETHNOLOGY/DANCE ANTHROPOLOGY FROM LITHUANIAN ACADEMY OF MUSIC AND THEATRE IN 2022. THE SUBJECT OF HER STUDY IS 'KATHAK, AS MODERN PERFORMATIVE PRACTICE'.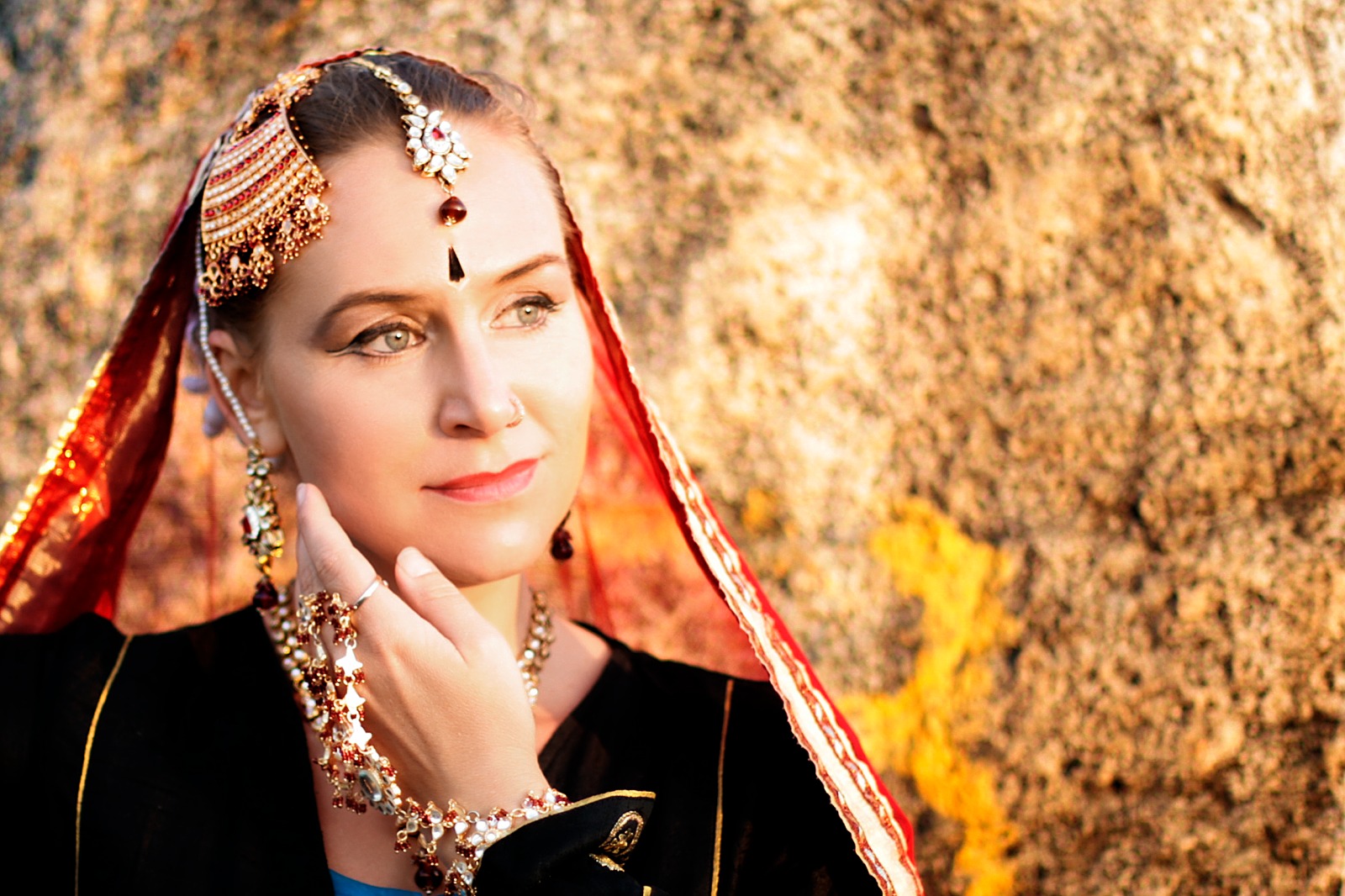 PERFORMANCES
Renowned dancer Kristina Luna Dolinina participated in numerous programmes in many countries. She has performed in various prestigious festivals in India and Lithuania. Some of the recent major programmes include Azadi Ka Amrit Mahotsav, organized by Swaranjali and Pracheen Kala Kendra; Stage Project-Radha Bhava, Vilnius, Lithuania; Music Without Boundaries 2021, Celebration of India 75th Independence Day, by Swaranjali, Delhi and Pracheen Kala Kendra, Chandigarh; Festival – My India 2021; International Yoga Day Festival, Riga, Latvia; Dance in the International Festival Lalit Arpan – Asavari – Shovana Narayan, International Kathak Dance Festival organized by SSDC; 'Indijos skulptūros atgyja' in Vilnius Cultural Night; Festival – My India 2020, Vilnius, Lithuania; 'LauMe' in Annual International Festival of Classical Indian Arts 'Sursadhana' 2019; 'Darnoje', Vilnius, Klaipeda, Kernave, Lithuania; Dance in Rusnė Pleinair, Rusnė, Lithuania; Festival – My India 2019, Vilnius, Lithuania; 'Indijos skulptūros atgyja' in Vilnius Cultural Night 2019; Dance in Global Water Dance project, White Mountain, Kernavė, Lithuania 2019, Classical Indian Dance Concert, Riga, Latvia and many more.
Kristina Luna also presented Kathak recital ADVAIT, Playtoome platform; New York Kathak Festival; Festival Ekastha, in collaboration with ISHARTES and Indian Embassy Portugal; Aarhus University, Denmark; Film Aavartan by director Durbha Sahay, Diya Entertainment; Performance at the lounge of Bollywood movie in Lithuania; Language Festival, Bergen, Norway; Uppsala University, Uppsala, Sweden and Interdisciplinary art project "Mandala – the Temple of Flowers", New Delhi, India & Kathmandu, Nepal.
LITHUANIAN – INDIAN FORUM
'Lithuanian – Indian Forum' is a public umbrella organization uniting various institutions, NGOs, Public figures, individuals who take interest in India to promote and strengthen the relations between Lithuania and India in the fields of culture, education, science and business.
Lithuania is an independent democratic republic, a premier location in the Baltic region for a great investment environment. Lithuania boasts of a 'millennium-old, around 30 of Lithuanian towns and settlements over 750 years old, with surviving old towns'. Gothic, classicism and baroque styles are represented in churches, monasteries and there are more than ten ethnographic villages of the 16th-17th centuries, preserving their authentic wooden architecture, as well as their ancient crafts. The Old town of Lithuania's capital Vilnius was listed as a UNESCO World Heritage Site in 1994.
In April 2018, Kristina Luna Dolinina became the President of 'Lithuanian – Indian Forum'.
A tireless dancer, Kristina Luna Dolinina travels and performs, flitting between Europe and India, where connoisseurs and general audiences alike appreciate her endeavor in upholding the rich traditions of art and culture.