22 May 2023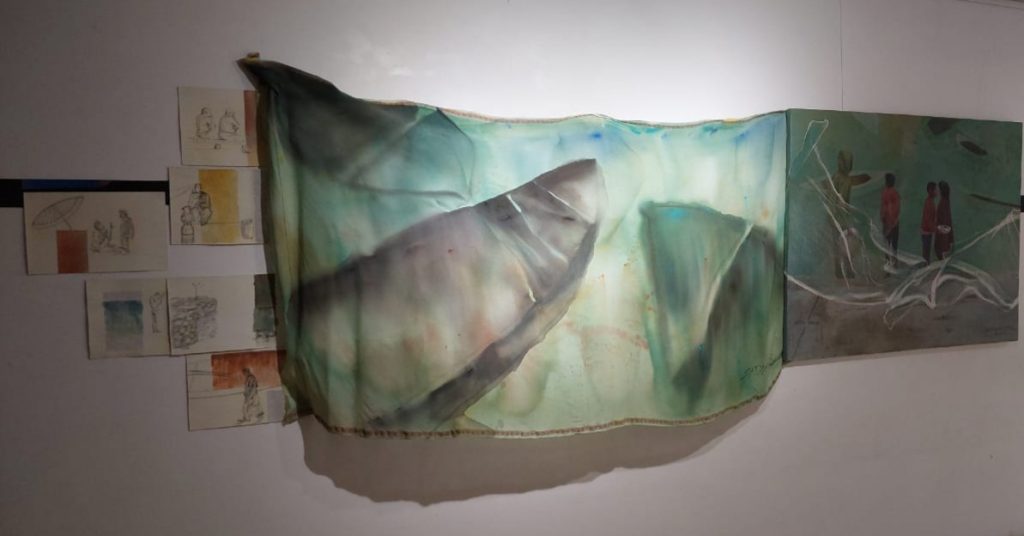 EMERGENCE – A CONTEMPORARY GROUP ART EXHIBITION AT KA ART GALLERY, VARANASI
ARTISTS / SURABHI BANDYOPADHYAY/ PULAK K. SARKAR/ SATYAM KUMAR/ HEMANT KUMAR HANSDAH
CURATOR / TAMANNA ROY
KA ART GALLERY, famous contemporary art Gallery in Varanasi presents EMERGENCE –  a contemporary group art exhibition of four emerging young artists  Surabhi Bandyopadhyay, Pulak k. Sarkar, Satyam Kumar, Hemant Kumar Hansdah of Banaras Hindu university, curated by Tamanna Roy. The show opened on 21May 2023 and will continue till 23May 2023.
Dr. Shanti Swaroop Sinha inaugurated the Exhibition on 21 May 2023 in the gracious presence of Dr. Uttama as Special Guest. Dr. Jagadeesh Pillai, Prof. Sadanand Sahi and Prof. Pradosh Mishra attended as guests of honour.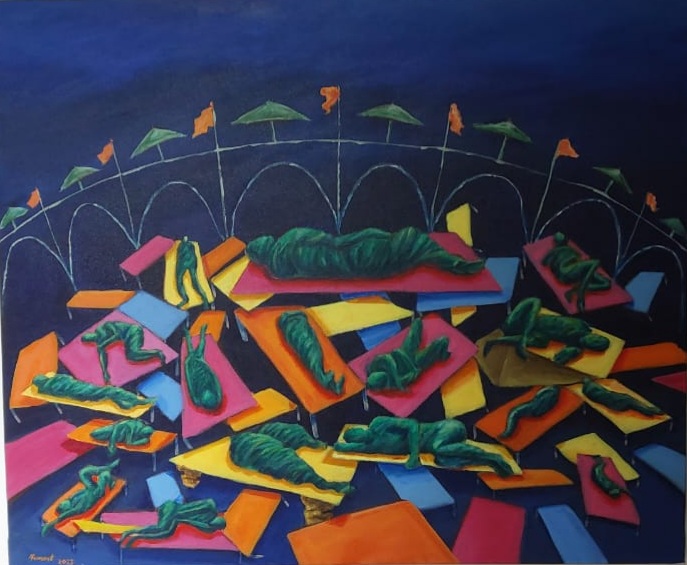 "As we know, every human being has a trait to fight for their existence. Always trying to find and accomplish the various legitimate purposes that can be found within their existing world and that should be justifiable. The conception of living life is different for those who are always trying to discover the infinite source of living with people and adopting values and culture. It requires insight, intelligence and curiosity. So, 'Emergence' will exhibit the vision of four artists, an ingenious exploration of their ambient environment which has a collectiveness and manipulated methods and techniques and gives us a sense of their visual sensibility. Tell us – This can also be another way to look at our surroundings while taking advantage from our past and putting them in the present and shaping them in a modern language," says Tamanna Roy, Curator of the Show.
"Surabhi Bandyopadhyay' s 'More Than Varanasi' addresses her mission to find queries regarding Varanasi that exist beyond forms and structures. Getting into the essence, one can get to know why this place is more what we see. The essence of each individual element that can connect humans with this place. The true essence doesn't belong to anyone, it is always more than every aspect.
While Pulak' s 'Tumhe dekha toh aisa laga' tells us about an imaginary girl who gazes into his eyes and gives him a hint of her metaphoric presence and thus, he is remembering her always in his mind. He never sees what's within her, he just admires her beauty the way she appears from outside.
Satyam's 'Under the shadow of belief' is connected with the indigenous aspects of Banaras, identified with the ghats and the people living in the ghats. The common activities of Banaras and the different shades of Banaras that lead to religious beliefs and a sense of superstition is also visible, which is also natural.
Because he believes 'there are so many problems in their life that they want an easy solution, due to which they may be inclined towards superstition. I present these different experiences and feelings in my paintings through colours, textures and some raw materials. So these different experiences inspire me to make paintings on this subject.
Hemant's 'Insomniac at the Ghats' expresses his self-realization that comes from an introspection through his journey from his native place to Banaras . Banaras and its surroundings had an impact on him, specifically the ghats, the spiritual aura of Banaras, the daybreak, everything . These are the aspects that helped him to develop a new style and paint it on canvas. This might be the expression of his journey," Tamanna Roy added in detail of the artworks exhibited here.
The Exhibition will have panel discussion and Curatorial walk through on 22May 2023.
A special talk will also be held on 23 May 2023 by eminent Art Historian Dr. Pradosh Mishra, Ph. D, Fulbright Nehru Fellow and Professor of History of Art, Banaras Hindu University, Varanasi.