13 November 2023 /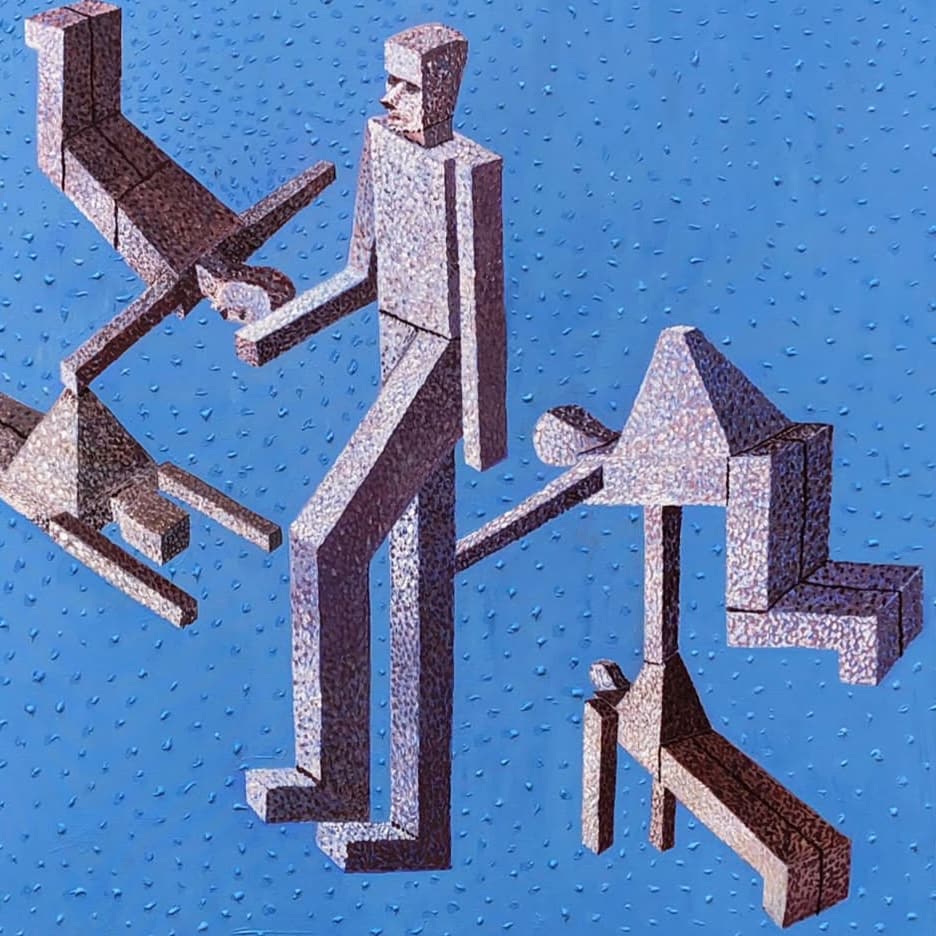 ARTIST SHIBI BALAKRISHNAN
"I started the 'Abondond Stones' series during Covid period and it continues"
"Lockdown period changed all existing social relations and interactions and restricted it into a lonely existence. It affected all of us as an individual as well as a social being. Social life is constructed by collective activities and sharing of knowledge. When it comes to art it's interwoven with emotions. As an artist everything I continued in life had to be reformed during Covid time. Art practice shifted in search for widening my awareness and knowledge of art. A consistent and steady art practice helped to overcome many issues of Art and to imagine new creative ways of thinking. The restrictions of covid time changed social life and my perspective towards Time, Space, Body etc," renowned artist Shibi Balakrishnan writes about his new series of art, 'Abandoned Stones'.
"My focus was on an image of an unfinished and abandoned sculpture which I continued to draw as a series. Perhaps they are abandoned because it's unfinished.
This is how the work of art series Abandoned Stones was created,' he added.
"We've entered into a non-human centric era. The lifestyle and the way of imagination have changed along with the technical advancement.
Symbolism changes reality.
In this series of works of art I'm trying to pinpoint this unique situation.
The structural changes of life reflects in the approach towards Art too in the manner of creating images, composition etc. In other words the Eurocentric perspective needs to be changed.
Though it's a reality, I realise the limitations of the obsolete methods of painting moments from life with a landscape backdrop. Therefore I believe a new way of expression should be formed. Basically my approach in painting is to fight against the collected data. I realise only by deconstructing the collected data I can retain as an artist," artist Shibi Balakrishnan shares in detail.
As an artist and creator Shibi Balakrishnan has successfully portrayed a variety of artworks on human relations through his abstract musings for more than decades now.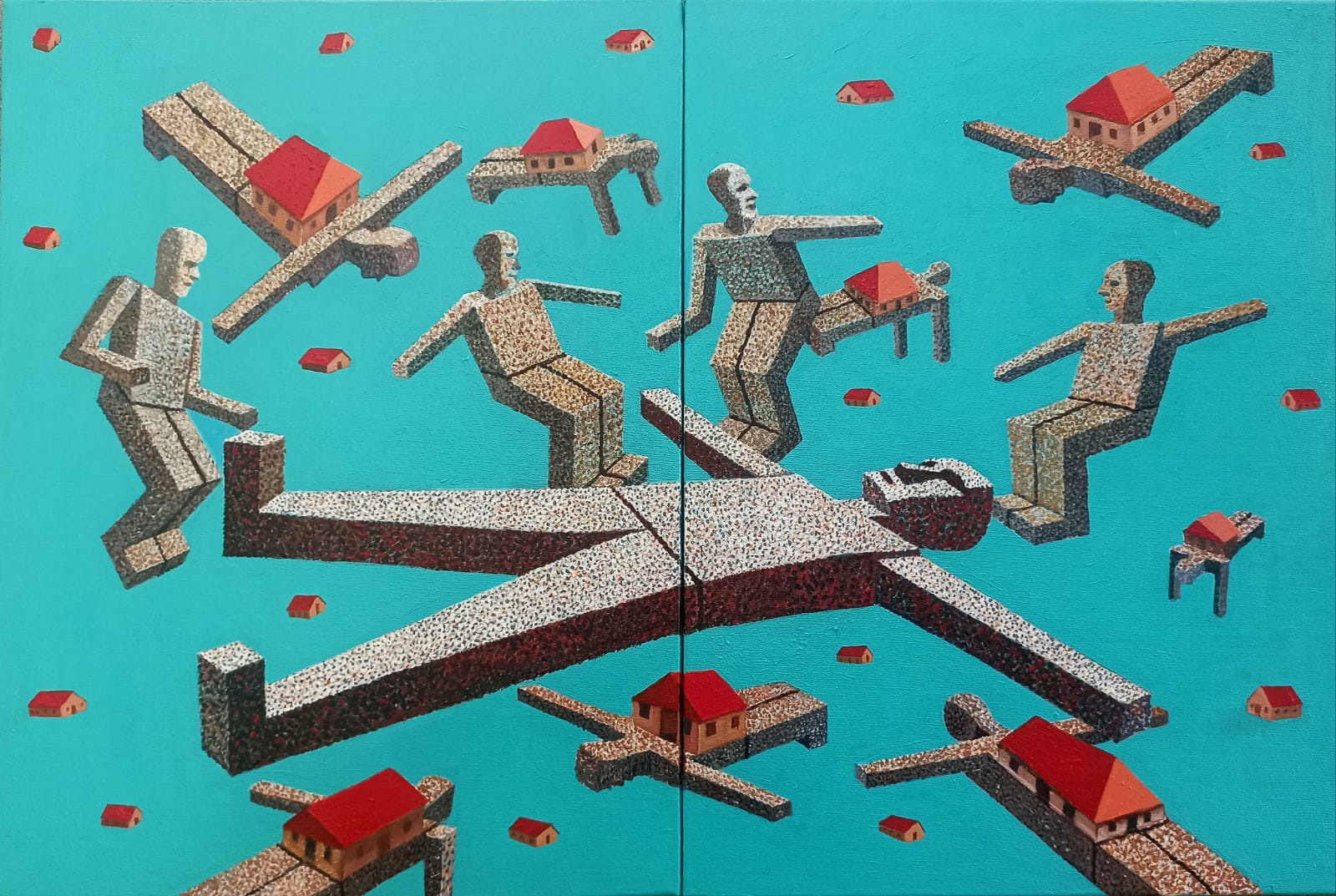 EXHIBITIONS & ART CAMPS
Renowned artist Shibi Balakrishnan has attended innumerable Exhibitions and art Camps including: Camp & Group Show at Govt. Model Boys HSS, Thrissur, Kerala (1995); One month long camp & Group show at Eravimangalam, Thrissur (1996); Group Show at Durbar Hall Art Gallery, Kochi (1998); 'Artist Against Communalism' at Vagamon, Idukki, Kerala (1999); 'The journey within' Group Show at Chaithanya Art Gallery, Kochi (2008); State Exhibition at Durbar Hall Art gallery conducted by Kerala Lalithakala Akademi (2010); 'Aesthetics' Group Show at MNF Art Gallery, Edappally, Kochi (2012); 'Absence/Presence' Kochi-Muziris Biennale collateral show at Yousaf art Gallery, Mattancherry (2013); 'Acme' solo show at Classic Art Gallery, Mattancherry (2013); 'In The Meantime' Group Show at Buddha Art Gallery, Fort Kochi (2014); State Exhibition at Durbar Hall by Kerala Lalithakala Akademi (2016); Kaalavarsham Kalavarsham' Camp conducted by Kalakar Keralam, Association of contemporary visual artists (2018); Allograph of visions – Group show presented by Kerala Lalitha Kala Akademi at Akademi gallery Trichur (2018); Kalakar Commune' Camp conducted by Kalakar Keralam (2019); 'Pasina' – Online show conducted by Mehnatmanzil.org , Ahmedabad (2020); Online Show conducted by Kalakar Keralam (2020) and NiraKeralam Camp Conducted by Kerala Lalithakala Akademi (2021); Nirakeralam Shilpa Keralam Exhibition,Kerala Lalithakala Akademi Art Gallery at Kottayam (2021); Online International Show, conducted by DAG – Jalpaiguri, North Bengal (2021); 'Yet another Winter' at Durbar Hall Art Gallery, Kochi (2022); 'Mansoon Art Fest at Durbar Hall, Kochi conducted by T.R. Udayakumar & Chavara Cultural Centre 92022); One day Camp at Vaikom Satyagraha Hall by Kerala Lalithakala Akademi (2022); Art at Home, camp Conducted by Kerala Lalithakala Akademi (2022); Munnar Art Camp at Mistletoe Home Stay (2022); 'DHARA' Art from home exhibition at Kerala Lalithakala Akademi Kayamkulam (2023); 'Unbounded and Sensitive' Group Show at Chola Art Gallery, Chalakkudi (2023) and 'Chorus of a Cultural Scape', Group Show at Durbar Hall Art Centre, Kochi by Artist Guild, Kochi (2023).
Recently he has participated in the Cultural exchange programme between India and Bangladesh conducted by Kerala Lalitha Kala Akademi at Dhaka, Bangladesh.
Shibi Balakrishnan studied at Government College of Fine Arts, Thrissur. He works and lives in Kottayam, Kerala.