11 October 2023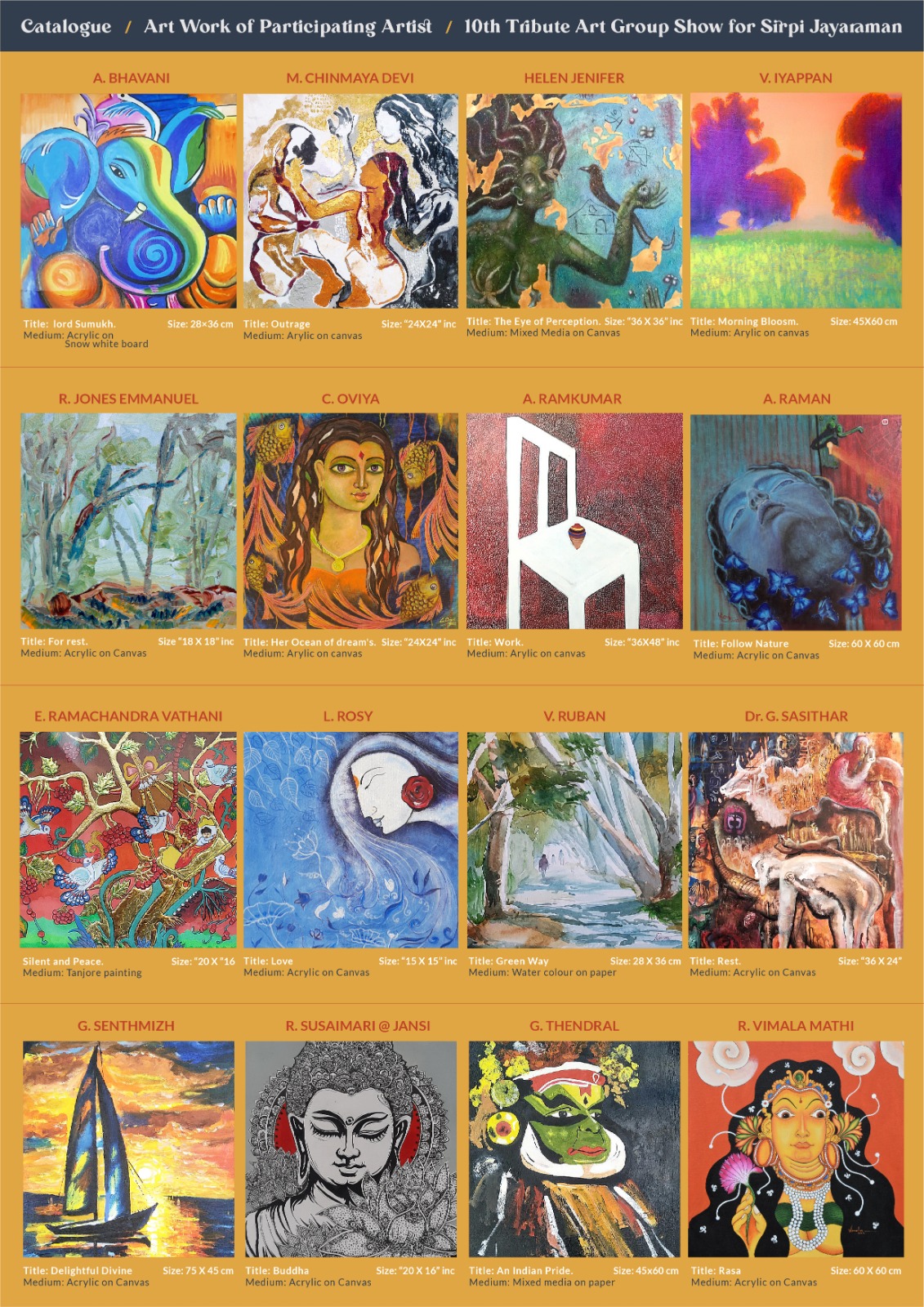 10TH ART EXHIBITION AT PUDUCHERRY
10th Tribute Art Group Show for Eminent Indian Artist Dr. M. SIRPI JAYARAMAN
INAUGURATION: 12 October 2023 @7.00 PM
VENUE: VANNA ARUVI ART GALLERY/ SAINT THERESE STREET/PUDUCHERRY
10th Art Exhibition, a group show of well-known artists of Pondicherry, a tribute to the eminent Indian artist Dr. M. SIRPI JAYARAMAN, former Principal, Bharathiyar Palkalaikoodam, Puducherry will be held from 12 October 2023 till 18 October 2023.
GREAT TRIBUTE TO THE LEGENDARY ARTIST Dr. M. SIRPI JAYARAMAN
Dr. M. Sirpi Jayaraman, renowned Sculptor, artist, music composer, poet, teacher and social thinker won many awards including Art Achiever Award, Sigaram, Kalai Mamani and best Educationist awards of State and Central Government of India. His art works standout for their unique technique that shines through in each stroke to create breathtaking details all the time. He worked as an artist at Jipmer and later joined as principal, School of Arts & Crafts Bharathiar Palkalaikoodam, Pondicherry. He exhibited more than 100 shows including 30 solo shows of drawings, paintings and sculptors in Puducherry, Bangalore, Hyderabad, New Delhi, France, South Africa and Nicobar Islands. He was honoured by the UNESCO as sculptor and displayed his artwork of 40 Kg Granite sculpture at the Cultural Complex, University of Pondicherry. He also published 10 books on fine arts, poetry and history.
ARTIST PARTICIPATING
A. BHAVANI/ M.CHINMAYA DEVI/ HELEN JENIFER/ V.IYAPPAN/ R. JONES EMMANUEL/ C. OVIYA/ A. RAMKUMAR/ A. RAMAN/ E. RAMACHANDRA VATHANI/ L.ROSY/ V. RUBAN/ Dr. G. SASITHAR/G. SENTHMIZH/ R. SUSAIMARI/ G. THENDRAL/ R. VIMALA MATHI
VENUE: VANNA ARUVI ART GALLERY/ SAINT THERESE STREET/ PUDUCHERRY